Robert Murphy's thoughts on Operation Twist
Some clear, common-sense economics on the Fed's latest gimmick: http://mises.org/daily/5691/The-Feds-Long-Shot Here's my favorite part: So for my non-Austrian economics colleagues, I have to ask, Don't you think the term spread on interest rates does something? In normal times, if one economy has a spread of 5 percentage points between 1-year and 30-year bonds, while...
My Summer Research Proposal
I recently was awarded a summer fellowship to conduct research at the Mises Institute. Here is the proposal that I submitted: As an amateur Austrian economist, I often find it difficult to clearly and concisely explain differences in first principles to people who have been trained as mainstream economists. Austrian economics notably devotes much more time and energy to elaborating the...
Capitalism is...
Life enhancing. During Spring Break this week, I video chatted with my friends and family, received a personalized tour of the Museum of Natural History using the museum's free app, and catalogued my trip to New York City with photos and videos (automatically tagged with location and people) and shared them with everyone on Dropbox - all on my iPhone. I can't imagine how I would stay...
Anonymous asked: What is your definition of a liberal?
Given carte blanche how would you stucture the government? I just read (I think just a part of) Anarchy is not Utopia which mentions some of the difficulties of our current arrangement. I'm wondering how you would do it differently to improve or prevent the state of affairs we are in.
Thanks
Graduate School
Having just finished my first semester of graduate school in economics, I find myself confirming some of my skepticisms about the the economics profession. The mainstream treatment of economics - the study of human choice - is set in the world of mathematics and statistics, mostly devoid of intuition and critical thought, and replete with models which only superficially resemble reality. All of us...
The Meaning of Apriori
My latest response in an ongoing discussion about the Austrian approach to the science of economics: The Austrian response to your letter is two-fold. First, let me distinguish apriori statements from aposteriori statements, to the best of my ability; then I will present some problems with mainstream methodology. Aposteriori statements are hypotheses for which observations are necessary (although...
Anarchy is not Utopia
A response I wrote to concerns about potential problems in an anarchist society: My version of a libertarian society requires no magic genies or perfectly rational actors for the things I'm saying to apply. It is not a utopian vision of some future world, but rather a set of beliefs that results from clear and precise reflection on social interaction between imperfect human beings. I...
More on the Environment and Property Rights
Here's another email I wrote in response to concerns about a firm in the free market dumping waste: There will never be utopia on this side of Eden. The question is, which system minimizes waste, damage, etc. while protecting human rights. In a free market, plots of the ocean could be owned, just as plots of the earth's surface are. The way somebody comes to own land is to...
Like the environment? Then you should love the...
If the government actually enforced property rights in the area of environmental protection, the monetary costs of energy use would reflect the total opportunity cost of using that energy, environmental impact included. This is one of most beautiful things about market prices - they carry with them information about the entire economy. To see how, consider going shopping at Publix for groceries....
Some Problems with Modern Economic Methodology
I dissect some of the problems with empiricism in this letter to a professor: I've read a bit more about the Austrian method, and have a slightly better grasp on the differences. It's true that its claims are not falsifiable via empirical testing; but that is simply due to the nature of economic claims, none of which are quantitative. For example, the claim that human beings employ...
Morality and Legality
A response to someone about drugs and the relationship between a moral and legal framework: You hinted at the main reason why libertarians are libertarians, and it exactly boils down to the moral justification for the use of force. Libertarians believe force is only justified in self-defense i.e. when force (or the immediate threat of force) is present. More concisely, libertarians are...
Some Perspective
  (from ihatethemedia) I just read a book review for the book "Eaarth," which is about the ecological crisis our planet will face if we "continue on our present course." Just to present some perspective on the issue, here are some of the hilarious, spectacularly wrong predictions made (by experts) on the occasion of Earth Day in 1970:   "We have about five more years at...
Infinite Wants
A common cry today among politicians, professors and even the laity is that of job protection. They say we must increase tariffs to protect American workers; subsidize car companies to protect auto workers; and even 'tax the rich' to protect the middle-class workers. All of these claims suffer the fatal economic flaw of focusing on the immediate effects of a change in the economy,...
The State's Role in the Creation of Wealth
Here's a response I posted to a discussion about the causes of man's creation of wealth. I think you're giving the State all the credit for man's achievements. To be clear, I define the State as an entity which claims sole right to the use of force, and extracts its tax revenues via coercion. It is true that private property enforcement is a precondition for prosperous...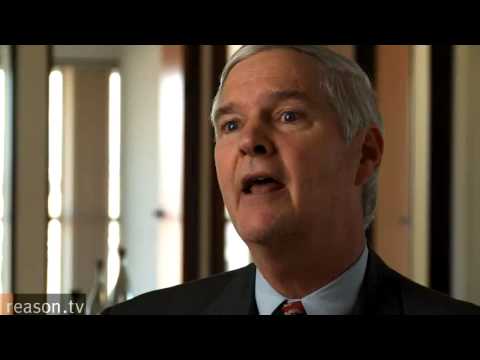 Mercantilism
This protectionist nonsense coming out of Congress is killing me. If China subsidizes sectors of its manufacturing industry, and sells those goods to us at the reduced price, we are better off. That is, so long as we allow US firms using these goods as inputs to purchase them tariff-free from China. This would be undeniably clear if the situation were taken to absudity. If China decided to give us...
The Global Economy
I wrote this in response to a statement about American consumers' detachment from the means of production of the goods they consume: It may seem at times that Americans are getting fat off of the labor of others in the world. But once you understand the mutually beneficial nature of free markets, you'll see this picture quite differently. Americans used to be just as poor as everyone...
NR Institute 2010 Contest
Here is the essay Daniel Danta and I submitted to the NR Institute 2010 contest: Newton's law of universal gravitation says that the force one object has over another decreases exponentially as their distance increases. Surprisingly, this idea holds true in modern-day politics. Any hope that a resident has of influencing his civic representatives is eroded the day he sends his tax dollars...
Painful
The latest stroke of brilliance from Mr. Obama: "We know that we need insurance reform, that the health insurance companies are taking advantage of people." Insurance companies add value to markets by pooling risk. This reduces uncertainty in people's lives. This is the service that insurance companies provide. They cannot "take advantage of people" for the same...
The Estate Tax
As it is now 2010, the Estate Tax, which taxes the largest 2% of all estates in the country, is in abeyance. Unfortunately, the repeal of the Estate Tax will expire in 2011, as will the rest of the Bush tax cuts. Greg Mankiw offers his opinion on why the Estate Tax should be permanently repealed here. He argues that proponents of the tax ignore basic economics by assuming the tax falls entirely...
Merry Christmas!
Over the past year, I have taken a strong liking to those figures in our world who ardently and intelligently champion freedom; in particular, Milton Friedman, Thomas Sowell, and Friedrich August von Hayek have greatly influenced my way of thinking. Today I reflect on Jesus Christ, whose birth, death and resurrection have given me ultimate freedom, in this life and the next, and who ultimately...
Obamacare Budget Magic
It looks like even some prominent voices on the left are now pointing out the budgetary bending and twisting that the Senate healthcare bill is doing. http://blog.heritage.org/2009/12/21/left-now-admitting-obamacare-full-of-budget-gimmicks/ President Obama and those on the left that crafted this bill understand that one of the keys to the passing of the health care bill is the result of the...
"Those who would trade liberty for security soon have none and deserve neither."
– Thomas Jefferson
Don't Tread On Me
Read Richard Epstein's view on the unconstitutionality of the Reid Bill. Basically, the bill creates an insurer exchange on a state-by-state basis, where all participating firms have access to a pool of heavily-subsidized consumers in exchange for complying with numerous burdensome regulations. The kicker is that if your firm decides it doesn't want to operate within the exchange, it...
Blah-vatar
This review sums up my thoughts on the movie Avatar almost perfectly; particularly, this paragraph: "What is disturbing is that Avatar marries its argument against ravaging one's environment to an argument against scientific progress itself. The film's position could not be clearer: Living off the land in a forest is good; living in a protective metallic shelter filled with...
"'Emergencies' have always been the pretext on which the safeguards of individual..."
– Friedrich August von Hayek